Repurpose your baby's old clothes with these ideas on toys made from baby clothes. This way you re-use the clothes that no longer fit your kid.
1. Memory Bear
Holding the baby for the first time in your arms is an unforgettable moment for a parent's life. Capture this moment by making a memory bear made from the first clothes in which you dressed your child.
2. Toys Made From Baby Clothes
Have a lot of old baby clothes and nothing to do with them? Try this tutorial for making a joyful bear for your child made from his old clothes.
Also Read: 14 Minky Baby Blanket DIY
3. Unique Jean Teddy
A teddy bear made using old jeans of your child is another way you can reuse some old materials. These kinds of teddy bears are not commonly found in stores and hence can be a unique addition to your baby's toys. Click here.
4. Pillows with Baby Clothes
Baby clothes usually have a lot of cute and big patterns and you can take advantage of these by making cute pillows. This tutorial shows how you can create pillow covers and stuff with cotton to repurpose your kids cloth.
5. DIY Cloth Owl
Move away from the traditional teddy bears and try some unique-looking soft toys made from baby clothes. This tutorial guides you to make a stuffed owl for your baby to play with. You can repurpose your baby's old clothes instead of buying new fabric for the project.
6. Capturing the day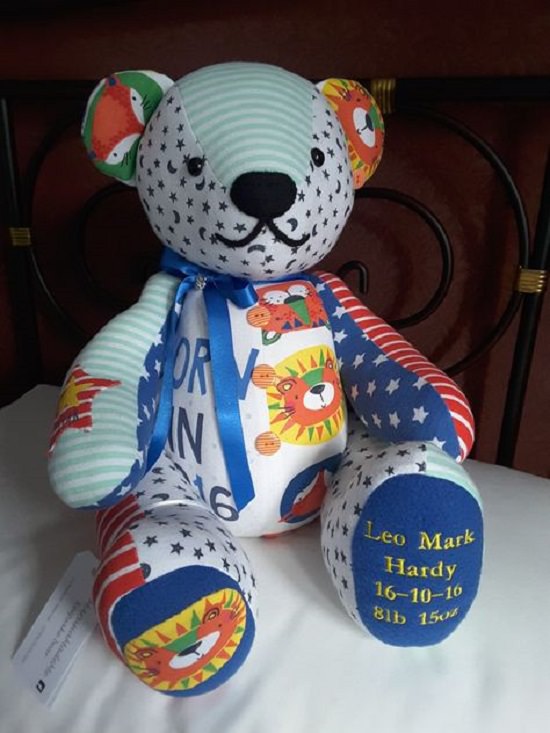 Make a customized teddy bear to seal in your child's birth details in a fun and crafty manner. You can use patches from numerous old clothes and add the baby's name, date of birth, weight, time of birth to always remember that first day.
Try these DIYs to customize a few toys for your baby while also keeping the early stages of your parenting as a memory in the form of preserving your child's clothes.