Take inspiration from these 13 Baby Room Ideas for Small Apartments to make room for your baby even in a small space.
1. Nursery Nook Makeover
Change the corner of your bedroom into a small nursery by creating a combined bedroom and nursery space. Add a small crib and some floating shelves around the crib to store all baby essentials. You can use monochromatic décor which will go well with the whole room palette. Use art wallpaper to differentiate it from the rest of the room while making sure it is not overdramatic. Take inspiration here.
2. Closet into a Nursery
You can convert your reach-in closet into a small nursery. Keep a larger section of the closet for a crib for the baby and use the other section for vertical storage drawers/boxes.
3. 33-Square-Foot Nursery
Your little human doesn't need a large bedroom like adults and it's a great opportunity to make use of your closet! Turn your closet into a nursery by taking inspiration from here.
4. Baby Room in Small Space
Convert a corner of a master bedroom for a themed nursery for the baby. A small bohemian bassinet instead of a crib will save space and make a cute little corner for a happy baby. Take some ideas from this blog.
4. Ditch Closet Door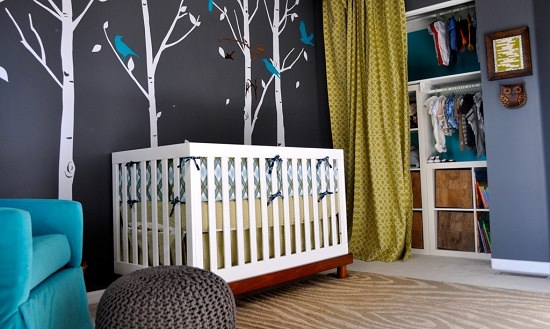 Replace your closet door with a colorful curtain and make it a space to store all baby clothes and toys. Use the adjacent wall to place the crib and also a sitting space for yourself to rest with the baby. You can color this particular wall in a children's theme and you have yourself a small nursery area.
5. 35-Square-Foot Nursery
What all can you add in a small space of just 35 square feet! Take inspiration from this nursery with lots of creativity. Little wooden crib, bookshelf, a cabinet, and full of art and craft for the baby to wake up to. This fancy room in a small space is sure to make your baby and you escalated with happiness.
7. Baby Room
If you do not want to move out of your apartment because the baby is coming and welcome in the same house you have, try taking ideas from this couple in New York. From some unique ideas of a hanging crib, an open closet, and a dedicated wall for all baby furniture, this is an excellent idea for having a nursery without the baby taking over the whole room.
8. Miniature Furniture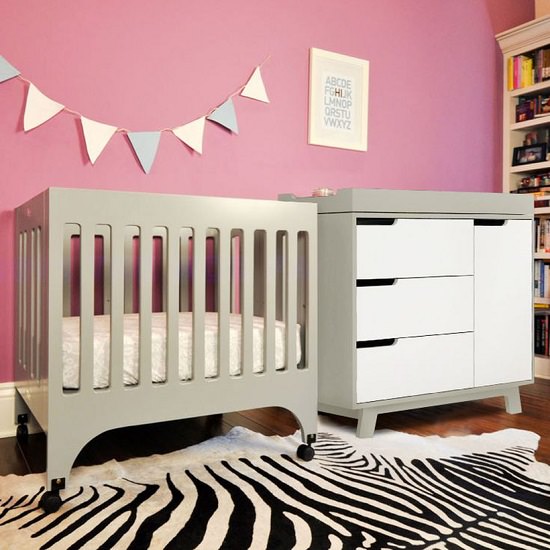 Lack of space can be compensated with scaled-down furniture for your little human. Add a few furniture pieces only on one side of the room and make a cute little nursery. A storage cabinet that doubles up as a diaper changing station is sure to come in handy.
More Ways to Cut Down Space
9. Reduce Stuff
Well, you are adding another human to your life and with the baby comes a lot of stuff it needs. Go all Marie Condo with your belongings and reduce whatever you don't need or haven't used for years. This will save so much space and avoid making your apartment feel congested and messy.
10. Install Shelves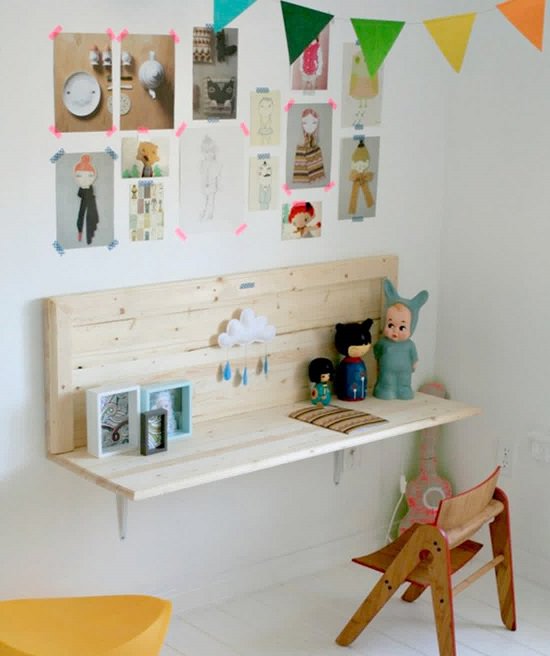 Another way to save space is by installing shelves on the wall. These shelves can act as a little table for your baby or just as a storage space. You can mount them all up the wall and make a nice storage space.
11. Use Space under the Crib
The space under the crib can easily be used to keep some boxes where you can keep a change of clothes or toys for the baby. There are many open boxes for storage shelves available in Home Depot which can be used to fit below the crib. Just pull the box to find all that you need.
12. Diaper Supply Shelf on Wall
Mount a small shelf just above the crib or a table on the wall for keeping all the necessary items for a diaper change. This could be an easy to access diaper supply shelf.
13. Use Behind Door Area for Storage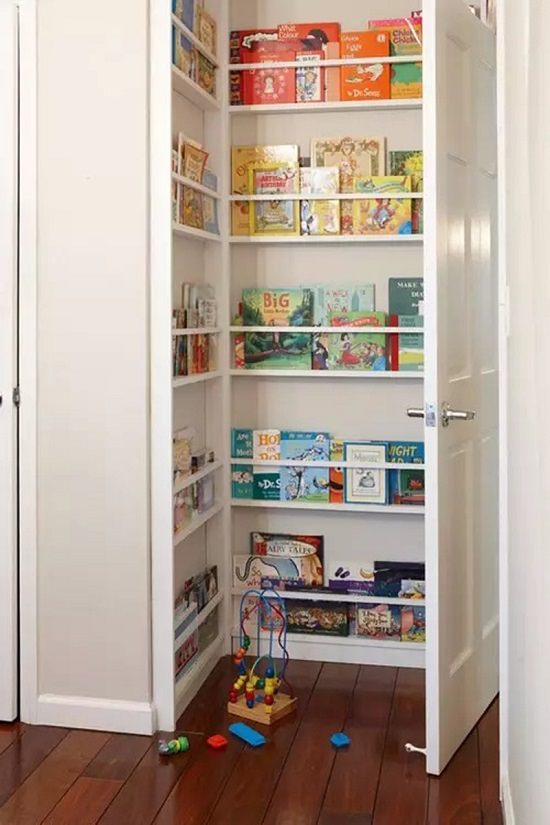 Use the space behind the doors to create a small vertical compact closet with space that goes all the way up to the wall. You can use this storage area to keep all little things of the baby like the books, or the posters.
We hope that these baby room ideas for small apartments helped you to accustom your home to a new member. If you wish to share your innovations with other mothers, feel free to write in the comments section.